Main MIPS/MIAM Laboratory Topics
The "Modélisation et Identification en Automatique et Mécanique" (MIAM) team is part of the "Modélisation, Intelligence, Processus et Systèmes" (MIPS) laboratory. The main topics are referred to the modeling, the identification and the control of complex systems but also in diagnosis and reconfiguration. Highly dedicated to the automotive domain, its researches help in the development of assistance systems for vehicle behavior enhancement. Numerous applications have been developed through industrial collaborations with international car manufacturers but also with local companies.
Team " Automatique et Automobile "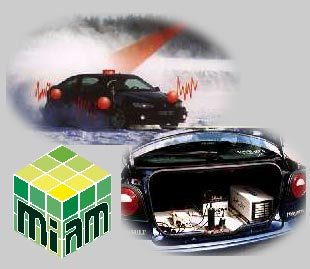 For more than 12 years, this team studies the modeling of complex systems, especially in the following domains:
Modeling and control of stable, unstable and pseudo-stable systems
Dynamic structures analysis
Application in the Automotive and Aeronautic domain
Post Doc
No offers for the moment.
PhD offer
IRIMAS intitute is seeking applications to fill a Ph.D. position entitled "Apport des caméras light-field à la perception de l'environnement sur les véhicules autonomes".
Download PDF
Internships
The team provides a MASTER Research placement entitled "Visual odometry for autonomous car navigation" for 6 months
Download the job profile in PDF
The team provides a MASTER Research placement entitled "Obstacle detection and avoidance on an autonomous vehicule" for 6 months
Download the job profile in PDF
The team provides a MASTER Research placement entitled "Etude de la perception des robots intelligents outdoor par le grand public" for 6 months
Download the job profile in PDF
The team provides a MASTER Research placement entitled "Création d'une application d'interconnexion avec des véhicules autonomes" for 6 months
Download the job profile in PDF
The team provides a DUT placement entitled "Contribution à l'instrumentation d'un véhicule autonome de type Twizy" for 3 months
Download the job profile in PDF
The team provides a MASTER Research placement entitled "Synthèse d'observateurs flous type Takagi - Sugeno pour la localisation de véhicule autonome basée sur des centrales inertielles" for 3 months
Download the job profile in PDF
Skills
Vehicle (and its subsystems) behavior modeling
Driver and tyre modeling
Driver and engine assistance systems development
Modeling tools development
Testing car development
Geographical Context
The MIAM team is located in the "Ecole Nationale Superieure d'Ingenieurs Sud Alsace" (ENSISA), one the engineering school of the "Université de Haute Alsace" (UHA)
Address
12 rue des Frères Lumière
68093 MULHOUSE Cedex, France